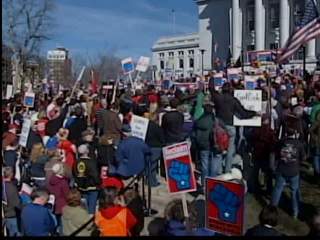 MADISON, WI (WTAQ) - Thousands of people filled the state Capitol grounds Saturday, marking the one-year anniversary of the Legislature passing a measure taking most collective bargaining rights away from many public union workers.
Marchers carried signs calling for Governor Scott Walker's recall. Some demonstrators banged drums, rang cowbells and some even played bagpipes.
The AFL-CIO in Wisconsin staged the rally. Union officials call the actions by Walker an assault on Wisconsin workers.
Before the rally, Democrats Kathleen Falk and Kathleen Vinehout had criticism for Walker in a candidates' forum. Both say they plan to run against Walker in a possible recall election.