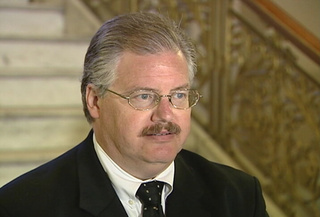 MADISON (WSAU) Former prosecutor Ken Kratz will have a chance to make his case later this year, as the State Supreme Court considers suspending his law license. The Office of Lawyer Regulation will hold a three-day hearing in Appleton on the matter, starting June 19th. The office has asked the court to suspend Kratz's law license for six months for sexually harassing women while he was the district attorney in Calumet County.
Authorities said Kratz sent racy text messages in 2009 to a female domestic abuse victim while he was prosecuting her boyfriend. Kratz was apparently trying to start up an affair. And once that news got out a year later, other women came forward and made similar allegations. Kratz resigned in late 2010, after the governor's office had scheduled a hearing on the possibility of removing him as the D-A. He denies wrongdoing – and he has accused regulators of being out to get him.
Kratz is now a private attorney in Appleton.