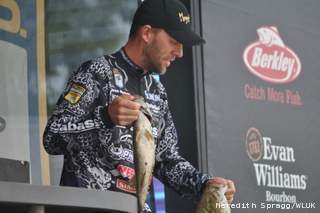 GREEN BAY, WI (WTAQ) - Anglers with the Bassmaster Elite Series opened up the Green Bay Challenge Thursday.
Aaron Martens of Leeds, Alabama brought in 20 pounds of fish and is atop the leaderboard going into Friday's competition. Martens says it felt good to be in the lead, but remains cautiously optimistic.
"It feels good, this is first day though," Martens told FOX 11. "I like Wisconsin a lot, I like the fishing up here, it suits my style well. I love the clear water, I love small mouth fish and I love the way the weather was today. We didn't have any wind and I'm hoping we get two days like that."
De Pere native Travis Manson sits 18th on the leaderboard with a total of 16 pounds, 7 ounces from Thursday.
All anglers will compete again Friday, then the top 50 from the first two days will advance to Saturday. The top 12 will then advance to the final day on Sunday.
98 competitors took off from the Green Bay Metro boat launch early Thursday morning.
Anglers will take off from the launch at 6:30 a.m. Friday-Sunday. Weigh-ins will take place at 3:15 p.m. each day at the launch.
The top finisher at the tournament will take home a prize of $100,000.