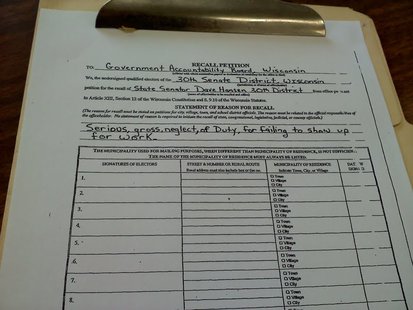 GREEN BAY, WI (WTAQ) - The Government Accountability Board is investigating recall petition signature fraud involving last year's recall Senator Dave Hansen committee.
Investigators with the state elections agency have met with several witnesses and subpoenaed information and evidence related to two groups that eventually combined.
Together they submitted more than 18,800 signatures. More than 3,300 signatures were tossed out either by the GAB themselves or through challenges from Sen. Hansen. With more than 15,000 valid signatures, the GAB then ordered a recall.
Chad Fradette came forward with the information to WTAQ. He was originally involved in the Recall Dave Hansen group organized by David VanderLeest, who would later run against Hansen in the recall election.
Fradette says he left and started the Committee to Recall Dave Hansen after things got strange with VanderLeest.
"We founded a second one because David VanderLeest was hording all the signatures, wouldn't let anyone look at them or to verify them if they were real or not or keep count of what we had and it got really strange, so we broke off," Fradette said in a phone conversation.
Fradette formed a group with David Steffen, who ran against Hansen in 2004 and lost.
Fradette says the GAB is investigating signature collectors that came from out of state, fraudulent signatures, forgeries, and try to ascertain who paid for them.
Fradette says questions also arose about VanderLeest's involvement.
Fradette mentioned that his second group received help from the Republican Party of Wisconsin as well as the Republican National Committee and says they may have been involved in hiring the out of state petition circulators.
When initially asked about the investigation VanderLeest claimed that the investigation was focused on signatures gathered by the other group.
"It doesn't appear that any of my signatures collected by my grassroots volunteers are the ones in question", VanderLeest said.
VanderLeest then stated he didn't know why this was coming up after more than a year later and labeled this as a "fishing exhibition" and then abruptly hung up the phone after just over a minute.
GAB Public Information Officer Reid Magney says they have no comment, and directed WTAQ to a confidentiality clause regarding investigations or prosecution of violations.
VanderLeest made a surprising move to file paperwork to take on Hansen in the recall election. He became the default candidate after Marinette Rep. John Nygren, who was backed by the state Republican party, failed to collect enough valid signatures to get on the recall ballot.
VanderLeest lost to Hansen and is now currently running for state assembly district 90.