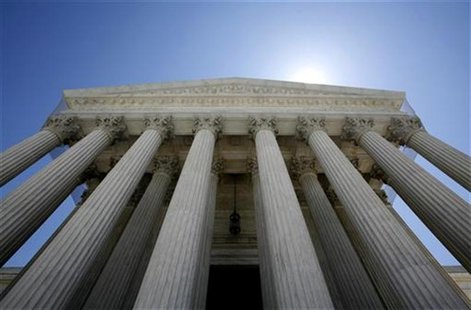 WASHINGTON D.C. (WTAQ) - In a narrow vote, the U.S. Supreme Court is upholding the 2010 healthcare reform law.
Chief Justice John Roberts joined the four liberals on the court in ruling that the individual mandate provision of the law can stand as a tax. The mandate requires most Americans to purchase health insurance coverage or face monetary penalties.
The individual mandate is the heart of the Affordable Care Act, President Obama's signature legislative achievement. The ruling is a huge victory for Obama and congressional Democrats.
Healthcare reform is the Supreme Court's most high-profile case in years. During three days of oral arguments in March, justices asked tough questions about the individual mandate. Justices also pondered whether the entire law could stand if the individual mandate were struck down. The sweeping law spans nearly three-thousand pages.
After passage by a Democratic-controlled Congress, President Obama signed the landmark healthcare reform bill into law in 2010. It instantly became Obama's signature legislative accomplishment.
Critics dubbed it "Obamacare" and initiated legal challenges across the U.S. Federal appeals court rulings split on the constitutionality of the individual mandate. Some Republican-led states, including Wisconsin, also challenged an expansion of Medicaid in the healthcare law.
Republican presidential hopeful Mitt Romney is still calling for a full repeal of the landmark healthcare reform law despite a Supreme Court ruling upholding the law. In a statement from Washington, Romney said he will do what he can to "repeal and replace" the measure if he wins the White House. He called the law "bad policy" and a "job killer."
It is a tricky issue for Romney because he signed a similar healthcare law when he was governor of Massachusetts. The Massachusetts law, which includes an individual mandate, became a model for the Affordable Care Act.
GOP House Speaker John Boehner says the healthcare reform law must be repealed, despite a Supreme Court ruling upholding the law. In a statement, Boehner says the law is driving up healthcare costs and hurting the economy.
In another statement, Senate Minority Leader Mitch McConnell joined Boehner in calling for a full congressional repeal of the healthcare law. The Kentucky Republican calls the law "terrible" and "misguided," providing "only limited choices and increased healthcare costs for American families."
You can read the justice's opinions here.