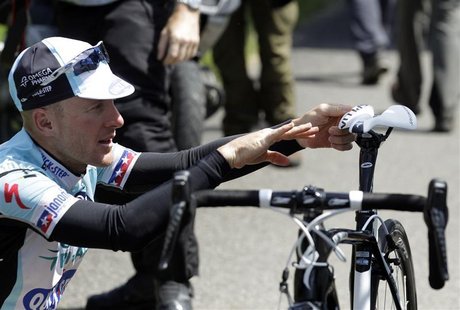 By Gilles Le Roc'h
LIEGE, Belgium (Reuters) - Levi Leipheimer believes anything is possible when it comes to the Tour de France, even getting a podium place on the Champs-Elysees less than four months after being in a hospital bed.
In April, the American was hit by a car while training in Spain's Basque Country and broke his leg.
Leipheimer recovered, got back on his bike and stands ready once again to tackle the race this weekend.
"Already at the Tour of California, I felt much better than I expected, and in Switzerland again. I hope to continue that trend," the Montana-born Leipheimer, who was third in the 2007 Tour, said on Thursday.
As he closes in on his 39th birthday, the experienced Leipheimer has seen just about every trap and trick the Tour can throw up.
"The race is so hard it imposes the same pressure on every one of us equally," Leipheimer said. "Anything can happen, even making it back to the top three like I did in the past."
Briton Bradley Wiggins and title-holder Cadel Evans are the firm favorites for individual success on the Tour, which starts on Saturday.
Wiggins has won three stage races this year - Paris-Nice, Tour de Romandie and the Criterium du Dauphine - while Evans proved his worth on the French roads last year when he overcame the challenge of Luxembourg's Andy Schleck to claim a first Tour title.
"Bradley and Cadel get the five-star ratings and they deserve them; they did everything to be in that position," Leipheimer said.
"They're going to tell you they're very relaxed and don't feel the pressure but there is always pressure when you're a defending champion or a five-star favorite."
Leipheimer believes the way this year's race is set up could be to his advantage.
"It's true that hopefully the course suits me. There hasn't been such a balanced course, with so much emphasis on time trials in many years," he said.
"But then there are all the traps and pitfalls you can fall into in a three-week race."
Leipheimer will ride for the Omega Pharma Quickstep team during this year's Tour.
He has been involved with some nine teams in his 15 years as a professional cyclist but said his move to the Belgium team last season had rejuvenated him.
"I joined probably the best classic team of all time and at first I didn't know how to fit in," Leipheimer added.
"But then with the arrivals of Tony Martin, Peter and Martin Velits, we probably have a bigger team than we ever had.
"It's a lot of fun to be part of team that supported me personally so much."
(Editing by Tom Bartlett and Clare Fallon)