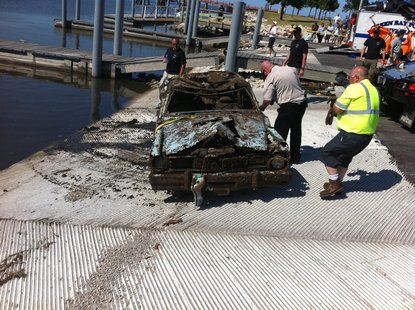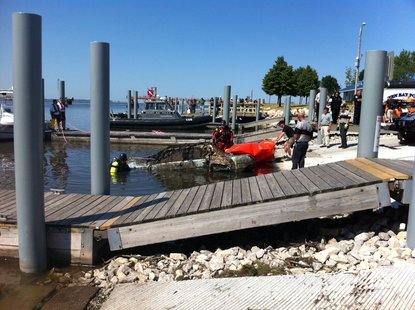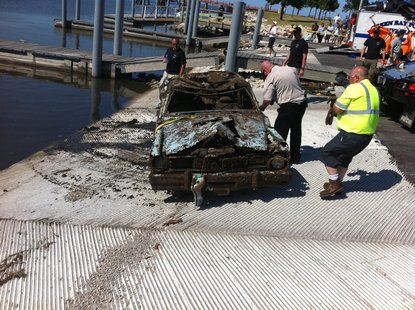 GREEN BAY, WI (WTAQ) - Green Bay Police and their dive team removed a older model sedan from the Fox River that has submerged for a awhile.
The Police Department was informed last week about a submerged vehicle by a subcontractor with the Fox River Clean-Up Project.
J.F. Brennan found the vehicle by sonar on June 22nd. The vehicle was submerged in the river between Cherry Street and East Walnut Street.
"The vehicle is 19 feet down into the silt, the silt is halfway up the doors, so the vehicle is considerably deeper than the river bottom," Lt. Kevin Warych said. "Divers were able to retrieve part of its Minnesota license plate. Keep in mind the divers have no visibility, they can't see what they are doing, they have to do everything by touch."
Police are using the vehicle identification number to track down the owner and history of the light blue four-door sedan and to hopefully find out how and when it got into the river.Lt. Warych couldn't say if anyone had died in car or if there were any human remains.
Hundreds of spectators gathered at the Bay Beach Municipal Boat Launch to watch the car get pulled out. Divers attached inflatable underwater bags to the car and floated the car more than a mile from the downtown to be pulled out by a wrecker. Looking at photos of the vehicle after it was pulled up it appears to be a Plymouth Valient, or Dodge Dart.