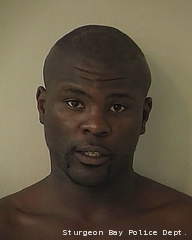 STURGEON BAY, WI (WTAQ) - Police in Sturgeon Bay have arrested a man after he allegedly hit a woman with his car and dragged her.
Authorities say 30-year-old Kemoni Garner and another man got into a fight in the 800 block of West Oak Street around 3 a.m. Saturday before the woman was hit.
Police say Garner also tried to hit that man with his vehicle.
The woman was brought to the Door County Medical Center before being transferred to a Green Bay hospital with life-threatening injuries. Authorities say she's expected to recover.
Garner was arrested Saturday morning after a high-speed chase that went on for about 14 miles.
Police are recommending multiple charges against Garner including: attempted first-degree intentional homicide, operating while intoxicated, hit-and-run involving great bodily harm and fleeing from an officer.
At this time no charges have been filed.
Garner is being held in the Door County Jail on $150,000 cash bond.