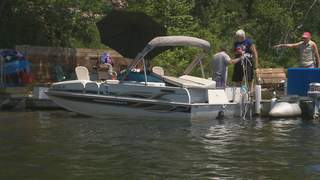 OCONTO COUNTY, WI (WTAQ) - A 17-year-old boy suffered minor burns after a boat motor exploded Tuesday.
Officials say it happened on Lee Lake in the Oconto County Town of Brazeau.
In all, eight people were around the boat when the small blast in the engine happened. The group was about to go tubing on the lake.
DNR officials believe the explosion was triggered when the boat operator went to start up the engine after two tubers were let off.
The fire was contained to the boat's motor.
"He was seated in the most rear seat of the boat and you can see on the seat where the fireball had singed the seat, and that's where he was sitting," said DNR Conservation Warden Mike Stahl.
The DNR says this happens sometimes if you don't run the blowers on the motor.
Everyone on the boat jumped into the water after the explosion.The DNR says everyone was wearing life jackets.