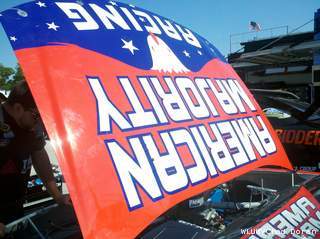 ELKHART LAKE, WI (WTAQ) - Most people may not believe that politics and racing mix.
But a unique partnership will promote a political message to thousands this weekend in Elkhart Lake.
American Majority, a conservative leaning group, is sponsoring the MacDonald Motorsports #81 car in NASCAR's Nationwide Series race in Elkhart Lake. The car will be driven by Jason Bowles at Road America.
President of American Majority Ned Ryun says thousands of fans attend NASCAR events every week and even more watch on TV. He says to sponsor Bowles' car throughout all 33 races on the Nationwide circuit required approval by officials at the highest level of NASCAR. He says even then a few track owners have been leery about bringing politics to the racetrack.
Ryun says overall NASCAR and fans have been very receptive to the idea. While he says American Majority stands for and promotes conservative values, the message at the track is to get people involved in the political process.
Bob Kiefert with the Brown County Democratic Party tells FOX 11 it's important for both parties to think outside the box in a hotly contested election year. Kiefert says Democrats are still focusing on tried and true methods of reaching out to voters through face to face contacts. But he adds they are trying to be more visible throughout the year, rather than just during elections.