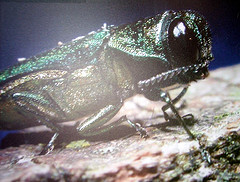 GREEN BAY, WI (WTAQ) - Officials say an Emerald Ash Borer was found in Green Bay earlier this month.
An adult beetle was confirmed in downtown Green Bay on June 8th.
The tiny insect kills ash trees by feeding on the wood. Wisconsin agriculture officials say infected ash trees were subsequently found last week in cross proximity to where the first beetle was located on a trap in July 2009 near the headquarters of Wisconsin Public Service.
The City of Green Bay and WPS say they are following up on these finds.