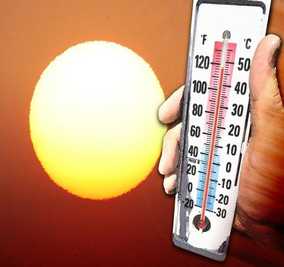 SUPERIOR, WI (WTAQ) - Folks in northern Wisconsin might not believe it – but southern Wisconsin is having another blistering hot day.
It was already 89 degrees in Middleton and Kenosha at 11 a.m. Wednesday. And in some parts of the region, the heat index was already above 90.
Forecasters expect temperatures in the mid-90's Wednesday afternoon before things cool off Thursday.
Meanwhile, it finally stopped raining in Superior late Wednesday morning – and it was only 59 degrees while building owners were trying to get flood waters out of their structures.
Parts of far northwest Wisconsin had 6 inches of rain in the 24 hours ending at 8 a.m.
Nearby Minnesota was hit harder, with Duluth getting around 8.5 inches. Roads are either flooded or washed out in many parts of Superior and surrounding Douglas and Bayfield counties.
Meanwhile, drivers in southern Wisconsin have had to put up with buckled pavement due to the heat.
Dane County had reports of 10 blow-ups on various roads Tuesday – including 5 on Madison's Beltline expressway.
Interstate 39 near Portage was diverted to the shoulders after some of the concrete buckled. Officials say roads are susceptible due to extreme variations in temperatures throughout the year.