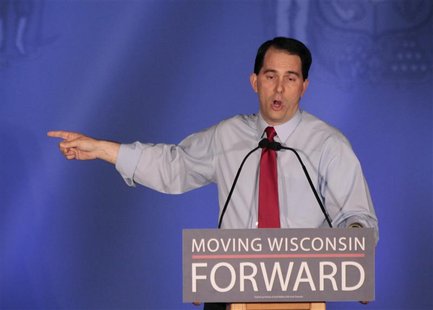 UNDATED (WSAU) Governor Scott Walker can thank voters in the northern half of Wisconsin for his recall election victory on Tuesday. That's according Milwaukee Journal Sentinel voter analyst Craig Gilbert. He found that much of Walker's large base in southeast Wisconsin either gave him up 2-percent more or 2-percent fewer votes than they gave him in 2010, when the Republican first won the governor's office. But in most counties in central and northern Wisconsin, Walker's share of the vote grew by at least 4-percent – and in a dozen counties, it grew by 6-percent or more.
Meanwhile Democrat Tom Barrett carried the counties with Milwaukee and Madison by larger margins than he did 17 months ago – but his support did not increase out-state.
And despite the intense polarization, exit polls from Tuesday showed that independent swing voters still matter in state elections – and this time, they generally went for Walker. The exit polls showed that 37-percent of Walker's voters were moderates. 20-percent supported Walker even though they had a favorable opinion of the public unions whose power was virtually stripped by the governor. And 9-percent of Walker voters did not approve of his collective bargaining changes but still voted for him anyway.
Walker carried five-of-every-six Wisconsin counties on Tuesday, with an overall victory margin of 7-percent.