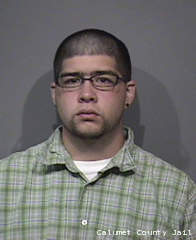 FOND DU LAC, WI (WTAQ) - The driver of a car who allegedly drove into the path of ten motorcycles last week is behind bars awaiting formal charges.
25-year-old Clinton Lovelace of Hilbert crossed the center line on Highway 151 in Fond du Lac County Thursday and hit 10 motorcycles.
One biker was killed, 8 others were hurt.
Lovelace is in the Fond du Lac County Jail, awaiting charges Tuesday for homicide by negligent operation of a motor vehicle.
Capt. Dean Will of the Fond du Lac County Sheriff's Office says Lovelace was released from Theda Clark Medical Center in Neenah Sunday afternoon. Will says Lovelace was immediately taken into custody.
Fond du Lac County District Attorney Dan Kaminsky says Lovelace was found with two unopened syringes in his pants pocket at the scene of the crash. Kaminsky says that is a violation of his probation related to a drug case in Calumet County.
Kaminsky says he expects Lovelace to make his first court appearance in Fond du Lac County court Tuesday morning.
Will says the three of the victims in the crash are still in the intensive care unit at Theda Clark. Two other motorcyclists are still at St. Agnes Hospital in Fond du Lac. One is expected to be released Monday, while the other is listed in fair condition and could be released as early as Wednesday.