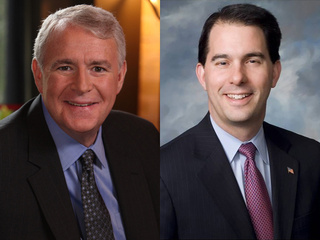 GREEN BAY, WI (WTAQ) - The polls will open in just a few hours and in the day before the Wisconsin gubernatorial recall election, the candidates criss-crossed the Badger State.
Governor Scott Walker made campaign stops in Fitchburg, Eau Claire, Stevens Point, Ashwaubenon and Milwaukee Monday.
At a plastic plant in Fitchburg, the Republican Walker touted his policies which have led to job growth and lower unemployment.
But his changes to collective bargaining rights spurred opponents to start the recall effort. Still, Walker is confident he'll keep his seat.
"We're cautiously optimistic, not overly confident. We understand it's going to be a big vote turnout. We understand there's a lot of passion from all different directions. We want to make sure we get our voters out, make sure we make a lot of last minute appeals to undecided voters… if they want to move on, they want to move forward, we're the candidate," said Walker.
Despite the anticipated close race, Walker says that he isn't thinking about a possible recount.
Democratic Milwaukee Mayor Tom Barrett made campaign stops in La Crosse, River Falls, Rhinelander, Portage and Kenosha Monday.
Barrett has campaigned on uniting Wisconsin after claiming Walker's policies divided it. At a coffee shop in La Crosse, he explained why he feels he is the right fit to run the state.
"For me, this has always been about Wisconsin and that's one of the main differences. I have no desire to be the rock star for the right. I have no desire to be the rock star for the left. I want to be rock solid in working to create jobs here in Wisconsin," said Barrett.
Walker is just the 3rd governor in U.S. history to face a recall. The previous two lost those elections.
Recent polls suggest a tight race for Tuesday's election. A Marquette Law School poll released last week gives Governor Walker a 52 to 45 percent advantage over Tom Barrett.
State Democrats have supported a different poll from the Greater Wisconsin Political Fund. It shows an even race with Walker and Barrett tied at 49 percent.
The Greater Wisconsin Political Fund has supported ads opposing Republican recall candidates and describes itself as a group supporting progressive public policy.
Also on the ballot in Tuesday's recall election is Republican Lieutenant Governor Rebecca Kleefisch facing Democratic challenger and Madison firefighter Mahlon Mitchell. Four state Senate seats are also up for grabs Tuesday.