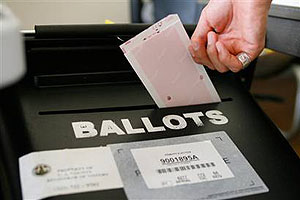 MADISON, Wis. (WSAU) – Wisconsin Attorney General J.B. Van Hollen says he will deploy teams of special agents and assistant attorney generals across the state for Tuesday's election.
Van Hollen says the presence of Justice Department investigators will discourage fraud in the voting which is getting national attention.
Former Democratic Attorney General Peg Lautenschlager took similar action during the 2004 election.
The Republican Van Hollen says seven of the groups of investigators and lawyers will be sent to polls in Democratic-leaning Milwaukee. Van Hollen says the aim is to help local election officials make sure voters comply with Wisconsin election laws.