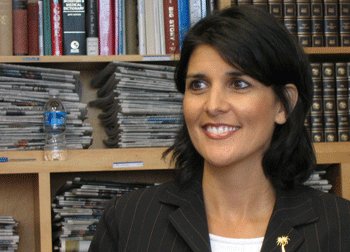 SUSSEX, WI (WTAQ) - South Carolina Governor Nikki Haley told printing employees in Sussex Friday that she and other governors are watching the Wisconsin recall race, to see if voters reward Governor Scott Walker's courage.
The Republican Haley campaigned at Quad-Graphics for Walker, who's challenged by Democrat Tom Barrett in Tuesday's recall vote.
Haley told several hundred workers that Americans like fighters who understand that they need to show courage when the heat is on. She said that if Wisconsin voters have Walker's back, it would send a message to other governors that if they fight for the people, the voters would have their backs as well.
Haley praised Walker's strong stance in the wake of massive protests against the Republican law that virtually eliminated most public employee union bargaining. That law spurred Tuesday's recall election against Walker.