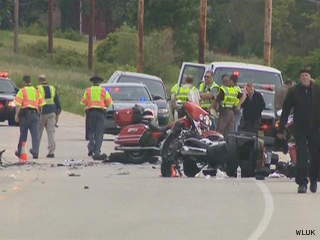 TOWN OF TAYCHEEDAH, WI (WTAQ) – The Fond du Lac County Sheriff's Department say one person is dead and nine others were injured after a crash involving a dozen motorcycles and one car.
The Sheriff's Department Friday has identified 59-year-old Daniel Lee Winsemius of Twin Lake Michigan as the man killed in the crash.
The Wisconsin Department of Transportation says it happened just before 3 p.m. on US Highway 151 and Gladstone Beach Road in Taycheedah.
Investigators say a 25-year-old Hilbert man crossed the center line in his car, hitting a group of 12 motorcyclists.
The group was from Michigan and was heading home from Milwaukee.
Five of the motorcyclists remain hospitalized. Of those, three are at Theda Clark Medical Center in Neenah, listed in critical condition. Two others are at St. Agnes Hospital in Fond du Lac. Two more were treated at the scene.
The driver is at Theda Clark in fair condition.
Fond du Lac County Sheriff's Captain Dean Will tells FOX 11 the driver will be arrested when he is released from the hospital on possible charges of homicide by negligent operation of a motor vehicle, as well as bail jumping from Calumet County. Investigators are not sure if the driver had been drinking; a blood sample has been sent to the State Crime Lab.
The motorcyclists are members of a group calling itself the Muskegon Motorcycle Gang.