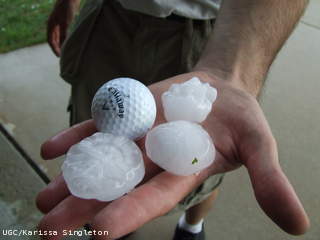 GREEN BAY, WI (WTAQ) - Parts of southeast Wisconsin were hit with storm damage overnight, as winds gusted to 57 miles-an-hour at Palmyra in Jefferson County.
The National Weather Service said hail fell for 3 minutes straight near West Bend, and nickel-sized hail damaged vehicles in Sun Prairie.
Some large trees blew down in Walworth and Racine counties. All those storms occurred between 11:30 p.m. and 2 a.m. Tuesday.
Northeast Wisconsin had a much worse hailstorm late Monday afternoon.
Baseball-sized hail fell in Howard, and Maribel in Manitowoc County had tennis ball-sized hail. Parts of Door, Waupaca, Marinette, Forest, and Florence counties also had hail.
The storms have since moved east, and forecasters say we'll have a sunny and a little cooler day throughout Wisconsin. Highs are expected in the 70's and 80's.
The 90's are due to return Wednesday through at least Friday, with a chance of rain each day through at least Saturday.