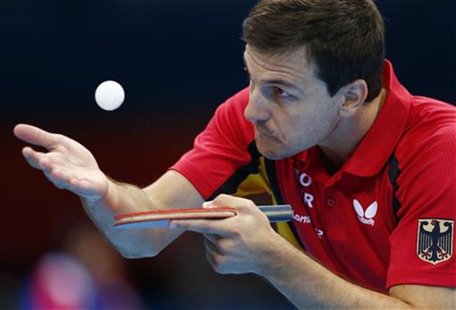 By Toby Davis
LONDON (Reuters) - As the highest ranked non-Asian, Germany's Timo Boll knows he carries Europe's hopes of ending Chinese table tennis domination squarely on his shoulders.
He is the only European in the world's top 10 and only five Chinese and a Japanese stand ahead of him in the rankings.
If that brings with it the pressure of expectation then he is not complaining. Pressure, he says, is a good thing if you are aiming to break an Asian stranglehold that has delivered the last four Olympic men's titles.
"The Chinese are the big favorites for the Olympics but we are all very well prepared," Boll said after confidently opening his campaign in the third round with a one-sided 4-0 victory over Iran's Noshad Alamiyan.
"It is important that you push yourself to the limit and give yourself a little bit of pressure.
"I have the target to win a medal here but also if I play well, anything is possible.
"I am never over-confident, but I am looking forward to it because my preparation was very good and I am coming in to the Games injury free."
Boll's chances of success have been improved by strict qualification rules that have permitted only two Chinese in the competition, which means there are only three higher-ranked players in the tournament.
"For us other players it is an advantage because you can get a medal without winning against all the Chinese," added the 31-year-old who competed at both Athens and Beijing and won silver in the team event four years ago.
"But the other opponents are also dangerous for me and I am taking it step by step.
"It is easier to get a medal but the you have to win the other matches too which are also not easy."
His status as the man most likely to gatecrash the Asian party has made him a pin-up superstar in China where he was once voted the sexiest man in the world by a women's magazine.
He describes it as a "big honor", that the table-tennis obsessed country has taken him to their hearts, but, he says, he is in it to win titles and not become a "style icon".
He plays Romania's Adrian Crisan in the fourth round later on Monday and, should he win that, a potential quarter-final against second seed Wang Hao lies in wait.
Wang, who eased into the fourth round with a 4-1 win over Austria's Werner Schlager, profited from a selection process that allowed him to book his place at the Games more than a year in advance.
He was ranked first in the world 12 months ago, but has since slipped to number four with two Chinese players above him who did not even make it to London.
Current world number one Zhang Jike, who cuffed aside his first opponent Bora Vang of Turkey 4-0, batted away questions about the qualification system that excluded four of the world's top 10 with equal ease.
"It doesn't matter (that there were only two qualifiers from China) because the champion is going to be Chinese anyway," he said.
Zhang plays Belarus' Vladimir Samsonov in the fourth round later on Monday while Wang takes on Singapore's Gao Ning.
(Editing by Alison Williams)