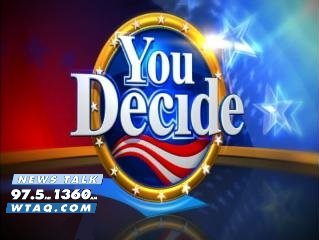 GREEN BAY, WI (WTAQ) - The Republican U.S. Senate candidates attacked each other Monday morning over their negative TV ads.
The G-O-P campaign has become negative over the last few weeks, as voters have started paying attention to the Senate race with the primary just 15 days away.
During the debate sponsored by 97.5/1360 News Talk WTAQ, both Tommy Thompson and Mark Neumann said first-time candidate Eric Hovde was still an unknown – despite the $4 million he spent on TV ads to get himself known.
Hovde grew up in Madison, but lived in Washington for 24 years as a hedge fund manager before he returned a year ago.
Thompson, a former governor and Bush health secretary, said he thought this campaign would be positive – and he slammed Hovde for his TV attacks on both Thompson and Neumann.
Neumann is home builder from Waukesha County who served in Congress in the 1990's. He told Hovde during Monday's debate, "Eric, you've missed it. People in Wisconsin are smart, and you would know that had you been here in the past 24 years."
Hovde defended his ads, saying they were factual while the ads against him were, "complete distortions."
The fourth candidate, Jeff Fitzgerald, has not run a TV ad. But he said the negative ads contribute to voter fatigue. He said all the GOP hopefuls should focus instead on the Democratic opponent who's waiting in November, Tammy Baldwin.
For the most part, the four Republicans agreed that federal spending must be cut to get the budget into balance.
You can watch the entire debate here.