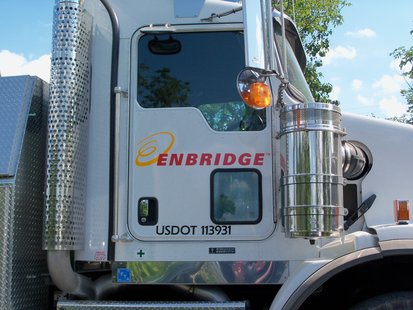 GRAND MARSH, WI (WTAQ) - Crews will begin Monday to replace part of a crude oil pipeline that leaked 1,200 barrels of oil in a field north of Wisconsin Dells in Adams County.
Enbridge Energy could not say what caused the spill – or when the line from Superior to Chicago will start operating again. The leak happened on Friday in the town of Grand Marsh.
Enbridge officials said it was discovered very quickly – and most of it was contained to the company's right of way.
The pipeline sends about 318,000 gallons per day of light crude oil from Superior to refineries in the Chicago area. Two similar pipelines along that route resumed operations on Saturday, once it was learned that they were not affected by the spill – and a third line was expected to re-open right after that.
Meanwhile, repairs began Saturday on the broken pipeline. Enbridge said two Grand Marsh landowners were affected, and one family was relocated for its safety.
Oil was found on two small farm ponds, but drinking water wells were not affected. Federal officials said all of the pooled oil had been cleaned up.
Reuters said the impact on Chicago's oil refiners would depend on how long the pipeline's out – and how many reserves the refineries have.
The spill came at a poor time for Enbridge, which had another pipeline leak in Alberta Canada last month. The firm was the subject of a critical government report on its handling of a ruptured pipeline in Michigan in 2010 that was not noticed for 17 hours.