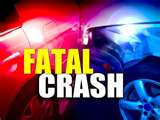 MANITOWOC COUNTY, WI (WTAQ) - A one-vehicle rollover crash in Manitowoc County leaves one man dead.
Authorities say it happened early Saturday morning on Tuma Lake Road between Harpts Lake Road and Highway Q in the Manitowoc County Town of Gibson.
38-year-old Christopher Tuschel was not wearing a seatbelt and was ejected from the vehicle.
Authorities say Tuschel sustained fatal head injuries from blunt force trauma and was pronounced dead at the scene.
Officials say alcohol appears to be a factor in the accident.