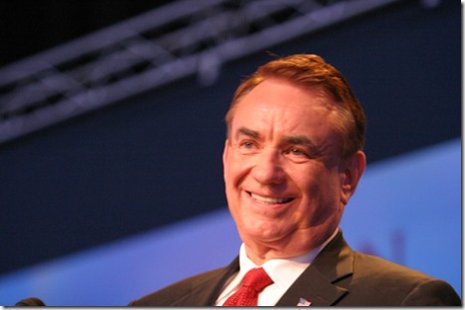 STURTEVANT, WI (WTAQ) - Rock legend Ted Nugent says Tommy Thompson will crush the, "embarrassing scourge" of political correctness if he's elected to the U.S. Senate.
Nugent, a fervent gun rights supporter, performed for about 200 Thompson supporters Thursday night in Sturtevant, west of Racine.
Nugent said the Obama administration is working with the United Nations to end Second Amendment gun rights in America – and he said Thompson would fight to preserve those rights. And the musician said the former governor would go to Washington and, "represent working hard, playing hard, productive, good Wisconsinites better than anybody I can imagine."
When Thompson introduced Nugent, he described the star as a "great American" who lives, breathes, and speaks about freedom.
Thompson is one of four Republican candidates for Herb Kohl's Senate seat in the August 14th primary. Polls have Thompson ahead of Eric Hovde, Mark Neumann, and Jeff Fitzgerald.
WTAQ's live debate between all four GOP candidates is Monday at 9 a.m. You can hear it live on 97.5/1360 News Talk WTAQ or online here.