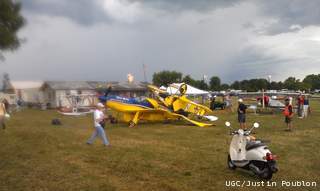 OSHKOSH, WI (WTAQ) - One vintage aircraft blew onto another Thursday, as strong winds and thunderstorms sailed through the EAA AirVenture Show in Oshkosh.
Winds exceeded 50 miles-an-hour in parts of eastern and southeast Wisconsin around mid-afternoon. Parts of Washington and Manitowoc counties had small hail. Tennis-ball-sized hail fell late last night near Birnamwood, east of Wausau.
The National Weather Service said an upper level disturbance caused the storms, as it moved southeast into Wisconsin.
Forecasters say the storm system will remain in the Badger State Friday, and the northeast is the most likely to get some showers and storms from it.
A dry day is in store Saturday, with a chance of rain returning on Sunday. It will also be cooler. The forecast calls for highs in the 70's and low 80's the next two days, with a slight warm-up on Sunday.