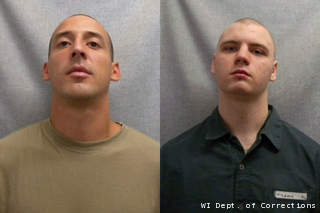 TAMPA, FL (WTAQ) - We're now learning that two fugitives arrested for a crime spree in western Wisconsin are also suspects in the brutal beating of an elderly convenience store clerk near Tampa Florida.
WPLG-TV in Miami said 29-year-old James Newman and 18-year-old James Misleveck attacked a 71-year-old male store clerk, not long before they were arrested early Wednesday in a stolen car in Hollywood Florida.
The store beating took place in Seffner Florida – and police said the victim was kicked in his head and stomach multiple times.
The station said the suspects were then spotted at the Seminole Hard Rock Casino where police were alerted. Police said they got into a high-speed chase before they were caught.
Thursday, a judge was scheduled to consider extraditing Newman and Misleveck back to Wisconsin. They're expected to face numerous charges in both Jackson and Monroe counties for stealing four vehicles and a shotgun, kidnapping a casino employee near Black River Falls, and leading police on a chase that ended in a futile manhunt.
Authorities say both men also face charges in Florida for grand theft auto, loitering, and resisting arrest – and that was before the report of the convenience store attack.
Newman and Misleveck were also charged in federal court Wednesday for taking a shot from one of the stolen vehicles.
The Wisconsin incidents happened soon after both suspects walked away from the Black River Falls prison, just weeks before they were scheduled to finish their terms and be released.