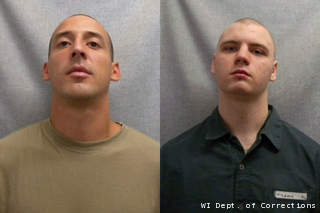 HOLLYWOOD, FL (WTAQ) - Two Wisconsin prisoners who escaped last week were captured early Wednesday near Hollywood Florida.
Authorities said James Misleveck and James Newman led officers on a high-speed chase and a manhunt, just before they were nabbed.
The 29-year-old Newman and the 18-year-old Misleveck were close to being released, when they left a boot camp program 8 days ago at the minimum-security prison at Black River Falls.
Right after they left, officials said the two went on a crime spree in which they stole 4 vehicles and a shotgun – kidnapped a casino employee at gunpoint, and stole $500 before releasing her – and led police on a chase which resulted in a large manhunt near Tomah.
Wednesday morning, Hollywood residents told police about two men cruising through casino parking lots and ramps.
The vehicle had Wisconsin plates, and officials said it sped away when officers approached it. The suspects led police through neighborhoods before abandoning the vehicle.
Misleveck was found hiding in a backyard, and was arrested without incident. Officials said Newman jumped from a tree when confronted, and he ran away before a police dog captured him. Newman was treated at a hospital before going to jail.
Both he and Misleveck await extradition proceedings back to Wisconsin, where authorities say they'll face a laundry list of new charges.
Misleveck was just ending a prison sentence on Juneau County convictions of car theft, arson, and burglary. Newman was doing time for shooting an assault rifle at his former girlfriend's home in Brown County in 2009.