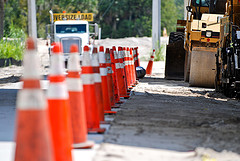 ONALASKA, WI (WTAQ) - Scientists from the Mississippi Valley Archaeology Center report they are finding ancient remains, which could be Native American, at a highway construction project location near Onalaska.
Almost two dozen possible skeletal fragments were found as work was being done on Wisconsin Highway 35.
Researchers say they have found hundreds of food and garbage pits, cooking hearths, tools and other artifacts at the dig site.
All burial sites are protecting by Wisconsin state law.