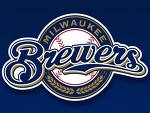 MILWAUKEE (WTAQ) - The Milwaukee Brewers are off Thursday – and perhaps nobody will welcome it more than Francisco Rodriguez.
The Brewers' new closer has pitched in 5 of the last 6 days. And it showed Wednesday, as he just barely got out of a 9th inning jam to give Milwaukee a 4-3 home win over St. Louis.
Rodriguez threw 35 pitches in the 9th, as he loaded the bases and gave up a run-scoring walk to David Freese with two out. K-Rod then got Lance Berkman to fly out to end the game.
Rodriguez earned his 294th career save. He was given the closer's job Tuesday, as John Axford continued to struggle. But Brewers' manager Ron Roenicke and GM Doug Melvin both say they're still confident about Axford, and they expect him to return to the closer's spot.
Axford got the win Wednesday, with one-and-a-third scoreless innings of middle relief. He's now 3-6. Cardinals' starter Adam Wainwright took the loss, falling to 7-10.
The Brewers scored all 4 of their runs in the 1st inning – two on a single by Corey Hart, and two on a pair of errors on the same play. Shortstop Rafael Furcal made an errant throw to first on a grounder by Carlos Gomez – and Lance Berkman dropped the ball after he got pulled off the bag, allowing the runs to score.
Ryan Braun was given the day off with his strained groin.
Freese and Allen Craig both homered off Brewers' starter Tyler Thornburg, who has now given up seven blasts in 12 innings.
The Brewers took 2 of 3 from the Redbirds, and they're 4-2 since the All-Star break.
The Crew is now 5.5 games out of a Wild Card spot, and 7 behind Central division-leading Cincinnati. Milwaukee opens a weekend series against the Reds in Cincy Friday night.