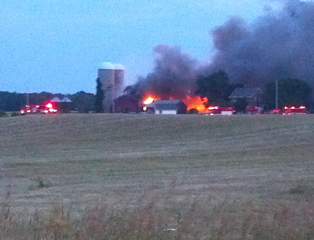 DOOR COUNTY, WI (WTAQ) - Fire crews say a Door County barn is a total loss following a blaze early Tuesday.
The call goes out to Pleasant Ridge Road in the Town of Union, near Brussels, around 4:30 a.m.
Fire officials say a passerby noticed the fire and alerted the owners. The barn was fully engulfed and a portion of the milk house was on fire.
Authorities say about 35 to 40 cows were in the barn at the time. They say all of the cows but one got out.
Despite the barn being destroyed, firefighters were able to save two other buildings.Fire officials believe the fire started in the milk house area, but are not sure of the cause.
No word on a damage estimate.
A few firefighters were treated with oxygen at the scene, but no one was injured or needed to be brought to the hospital.