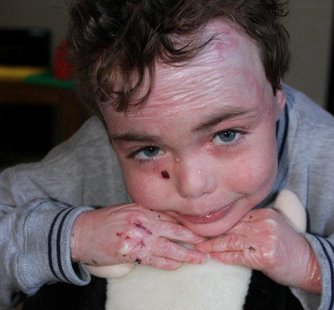 MINNEAPOLIS (WTAQ) - A Fox Valley boy suffering from a rare skin disease underwent another stem cell transplant Saturday.
Charlie Knuth underwent the procedure at 1 p.m.
FOX 11 reports Charlie's mom Trisha Knuth said her son felt miserable afterwards.
Charlie had a high blood pressure which caused an extreme headache. However, Trisha said he is resting comfortably now because some medication.
She is hoping he can stay comfortable until his cells start repairing themselves. Trisha said doctors expect this to take about 15 days.
Prior to the transplant, Trisha posted in her online journal that her son's main focus is on water. Some of the drugs Charlie is taking have made him thirsty. His mom said he drank 35 bottles of water Friday, each bottle was 16 ounces.
But she said his kidneys are still working and his fever is down.
Trisha said in her journal, "This whole process is more complicated and intensive than anyone who hasn't experienced could ever imagine."