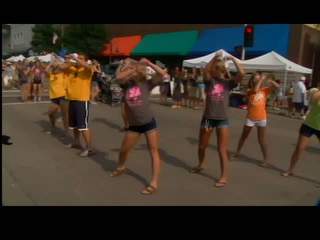 APPLETON, WI (WTAQ) - Appleton's downtown farmers market was taken over by a flash mob Saturday.
The reason was to promote Children's Week in Appleton. It's a full week of fun that takes place at the end of July.
Most of the events held during Children's Week are free. They include things like indoor ice skating, drive in movies, bowling and much more.
Organizers said they have one goal in mind for the event.
"The whole goal of Children's Week is to show kids how important they are to the future of the city, and allow families some fun and inexpensive things to do!" recreation manager Niki Wendt told FOX 11.
Children's Week begins July 22nd and lasts through the 28th.