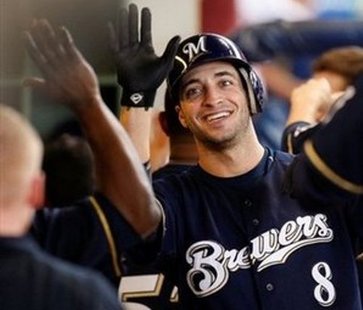 KANSAS CITY (WTAQ) - Ryan Braun ended an 0 for 7 drought in All-Star Games Tuesday night, as he helped the National League crush the American League 8-0 at the Mid-Summer Classic in Kansas City.
The Milwaukee left-fielder drove home the game's first run with a double over the head of Toronto right fielder Jose Bautista. Braun then scored on a 3-run triple by Pablo Sandoval of San Francisco.
All told, the NL scored 5 runs in the first off Detroit starter Justin Verlander – who lasted just one inning.
In the 4th, Braun set an All-Star Game record with his team's 3rd triple. And he was denied of a 3rd hit when Bautista made a sliding catch of Braun's looper to right.
Braun also made a couple of nice defensive plays in left. He ran down a drive at the wall by Josh Hamilton of Texas in the 1st inning. Braun then snared a liner from his former Brewers' teammate Prince Fielder in the 4th.
Fielder went 0 for 2 on the night.
San Francisco starter Matt Cain got the win. And the National League won its 3rd straight All-Star Game with retired St. Louis manager Tony La Russa running the show.
Braun praised La Russa, saying, "If you're trying to win one game, there's not a better manager out there … It's only fitting that he went out with a win."
The NL once again gets home field advantage in the World Series. The Brewers will open the second half of their season on Friday night at home against Pittsburgh.