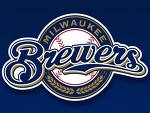 MILWAUKEE (WTAQ) - The Milwaukee Brewers have called up shortstop Jeff Bianchi from AAA Nashville.
The team did not immediately announce the move. But Bianchi mentioned it on his social media site, and Brewers' manager Ron Roenicke confirmed it after Tuesday night's All-Star Game.
The 25-year-old Bianchi will make his first appearance in the big leagues. He replaces utility infielder Taylor Green, who was sent down to Nashville on Sunday to get some more at-bats to improve his swing.
Roenicke says Bianchi is versatile, and he'll play a reserve role like Green did. He's expected to get an occasional start at short.
Bianchi, a right-handed batter, started the year at AA Huntsville where he led the Southern League with a .351 batting average. He was later promoted to Nashville, where he hit .305 in 51 games with a homer and 13 RBI's.