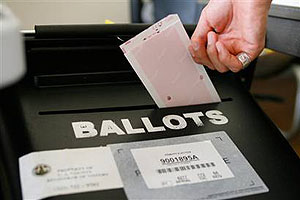 WAUKESHA, WI (WTAQ) - Taxpayers in Waukesha County will have to fork out a quarter-million dollars to fix the mistakes made by County Clerk Kathy Nickolaus in the state's presidential primary on April 3rd.
That's according to SysLogic, the consulting firm hired by county leaders to find out what happened and why.
Nickolaus promised to post timely results online on Election Night. But the public was left in the dark for hours, while election reporting services and local media had to add up the vote totals themselves from long paper tapes hung in a meeting room.
SysLogic said the problems were caused by an upgrade that Nickolaus installed to the county's election software – and she was the only person trained to use it. A report said she did not follow the proper protocol, and it resulted in the computer system's failure on Election Night.
At the time, Nickolaus said she was shocked – because her staff had tested the new program "many times."
The clerk was already on the hot seat because of what happened a year ago – when she failed to immediately report 14,000 votes in the State Supreme Court election. It resulted in a statewide recount that Justice David Prosser won by only 7,000 votes.
After this year's snafu, Waukesha County Executive Dan Vrakas threatened to call for Nickolaus's resignation if she didn't step aside from her election duties. She did that, and she promised not to run for re-election this fall.