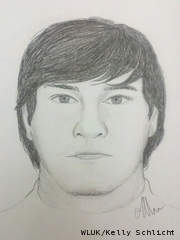 CHILTON, WI (WTAQ) - Authorities in Calumet County have released a sketch of the suspect in a stabbing at the Darboy Community Park last week.
The sheriff's department is also offering a $3,000 reward for information.
Deputies describe the suspect as a white male with a medium build. He's in his late teens to early 20s, with dark hair and around 5'5" to 5'6" tall.
At the time, witnesses say he was wearing a black and green t-shirt with yellow on the left shoulder and yellow in the middle of the shirt.
The Calumet County Sheriff's Department needs your help finding a stabbing suspect, and they're offering a $3,000 reward for information. He also wore shorts and black tennis shoes.
A 73-year-old man was walking in the park on Thursday morning July 5, when the suspect asked him to help him find his lost cell phone. The victim says he walked with the suspect into the woods to help him, and that's when the victim says the suspect stabbed him once in the back.
The victim says he turned around and yelled at the suspect, who ran away. The victim then walked to a relative's home nearby to call 911. Officials say witnesses report seeing an older model, light blue minivan of an unknown make in the park at that time.
Deputies say the suspect may have been driving that van.
Chief Deputy Brett Bowe says the victim played an instrumental role in advising sketch artists from the Appleton Police Department to create an image of what the suspect possibly looks like.
Deputies say no one else saw the stabbing first hand, but others who were around the park that morning have reported seeing a young man who matches the description of the suspect.
The Town of Harrison administrator tells FOX 11 that many people in the community are on edge. He and law enforcement officers say random acts of violence like this "just don't happen" in that area.
The sheriff's department has increased patrols in the area and continues to investigate this crime.
If you know any information about this stabbing, you're asked to call the sheriff's department at (920) 849-2335 or Crimestoppers at (877) 765-8327.