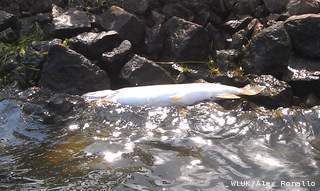 GREEN LAKE COUNTY, WI (WTAQ) - Wisconsin Department of Natural Resources officials say the extreme heat and humidity this past week may be the cause for hundreds of Northern Pike dying in area waters..
Officials say there are at least 276 dead Northern Pike along the Wolf River between Lakes Poygan and Partridge. More reports of dead fish have been made in other nearby lakes.
DNR Senior Fisheries Biologist Kendall Kamke told FOX 11 it's unkown exactly how many Northern are out here, but he's testing the waters to find out what's killing these fish.
"Since it is one species, it sort of points to something that isn't broad spectrum that would affect any kind of fish," said Kamke. Kamke believes that "something" is the extreme heat from the past few weeks. "It almost feels like warm bath water...we should have temperatures not much higher than the low 80's," said Kamke.
The temperature of the surface water in that particular area has been between 88 and 91 degrees, the problem is, the Northern Pike is a cool water fish,
"It appears to be heat stress, there's nothing that looks like a spill or a pollution," said Kamke. Heat stress for the fish is like heat stroke for people.
Kamke isn't sure how this die-off will affect the Northern Pike population overall. He said if the water cools off soon, the impact is likely to minimal.