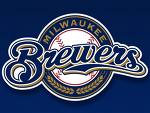 HOUSTON (WTAQ) - Home runs by Norichika Aoki and Ryan Braun in the first inning gave the Milwaukee Brewers a lead they wouldn't give up in a 7-1 pasting of the Houston Astros Friday night.
It was the 9th consecutive loss for the Astros.
Yovani Gallardo allowed a single run on 4 hits in 6 innings of work to improve his record to 7-6.
Rickie Weeks also hit the ball out of Minute Maid Park.
The Brewers led 4-1 when they scored 3 times in the 7th to blow the game wide open.
Jay Happ took the loss for Houston, which was held to 5 hits by 3 Brewer pitchers.