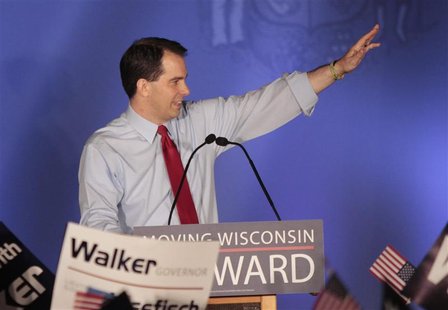 MADISON, WI (WTAQ) - A state government watchdog still estimates that around $80 million will be spent on Governor Scott Walker's recall election.
Mike McCabe of the Wisconsin Democracy Campaign says the final campaign spending figures by all candidates and special interest groups should more than double the old record. That was $37.4 million in the Republican Walker's first run for governor in 2010.
Campaign reports filed Thursday show that Walker raised over $37 million from the start of 2011 through the end of June. And Walker will have a strong start for a possible re-election bid in 2014, because he has still has $1.6 million in his campaign fund.
Meanwhile, the man Walker defeated – Democrat Tom Barrett – raised $2.5 million in the weeks before the June 5th recall vote. And he still has a quarter-million left in his war chest.
Republican Lieutenant Governor Rebecca Kleefisch has $123,000 on hand. She defeated Democrat Mahlon Mitchell in a separate recall contest. But if she joins Walker on the 2014 ticket, the two would again run as a team.