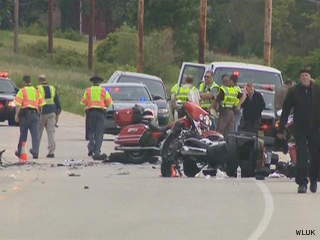 FOND DU LAC, WI (WTAQ) - A Fond du Lac business has helped to raise over $20,000 for victims of the Highway 151 motorcycle crash back in May.
Lori Thiel, who co-owns Open Road Harley-Davidson, says the fundraiser is now nearing the $21,000 mark. It runs through Saturday.
Donations can be made at Open Road Harley-Davidson in Fond du Lac or by visiting the Muskegon Motorcycle Gang's website here.
Thiel says the support from the community of Fond du Lac and Harley riders has been amazing.
A dozen riders from the Muskegon Motorcycle Gang in Michigan were returning home when they were hit by a car that crossed the centerline of Highway 151 in Fond du Lac County. Daniel Winsemius of Twin Lake, Michigan died at the scene. Douglas Younkers of Muskegon, Michigan died days later.