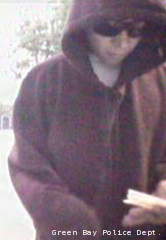 GREEN BAY, WI (WTAQ) - Police in Green Bay need your help identifying a person who used a stolen debit card.
Authorities say the male suspect made transactions on June 27th at the M&I Bank on West Walnut Street at 5:18, 5:19 and 5:23.
Investigators say earlier in the day there was a burglary at a home in the 800 block of Cora St. on the city's west side. Police say items stolen included the debit card, a purse, and laptop.
Anyone with any information about the identity of the suspect pictured to the left is asked to call the Green Bay Police Department at (920) 448-3208.