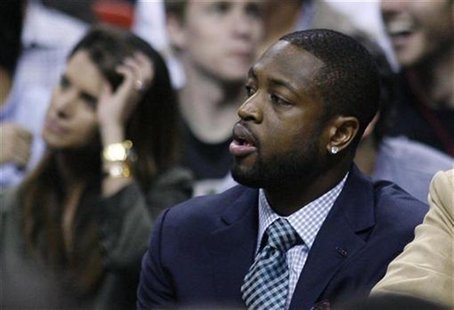 MIAMI, JAN 27 - MIAMI (Reuters) - The Miami Heat have won eight of their nine games without Dwyane Wade but after he returned with 28 points in Friday's victory over the New York Knicks, the face of the franchise laughed off the idea the team could get by without him.
While Wade sat on the sidelines, there had been chatter on the airwaves and social networks over the idea that the Heat are better without Wade.
It is a notion the seven-times All Star guard Wade said was "ridiculous."
"That's all I've got to say about that," he told reporters. "This is a very good team, with or without me. But better without me? I doubt that."
Wade joined in some of the more light-hearted debate with fans on twitter, poking a little fun at the idea.
"I had nothing else to do but watch television, I watched a lot of sport and it came up every second. It's all fun ... something to laugh about and I thought I'd get in on the joke," he said.
Wade says the reason the Heat have done so well without him is simply that they have a lot of other options.
"I have a lot of confidence in my team, we have a very deep team, we have a lot of guys on our bench that are not playing as many minutes as I am sure they would love and you look at our roster and it goes deep," he said.
The ankle injury that kept Wade out was perhaps not as serious as his six-game absence suggests and head coach Erik Spoelstra said that at least part of his time on the sideline was used to get his overall physical condition to a peak.
Wade said he had certainly benefitted from the break.
"It was, everything happens for a reason. It took a real, painful ankle injury to let me sit out, work on my body, get healthy, lose a couple of pounds and I worked hard to make sure that I came back better than I was.
"I wouldn't say I am glad it happened but it was beneficial for my health and the way I feel," he said.
(Reporting by Simon Evans in Miami; editing by Alastair Himmer)