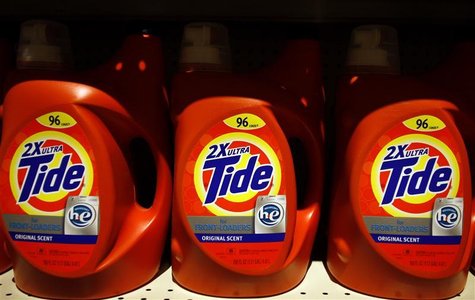 By Keith Weir
LONDON (Reuters) - Procter & Gamble, the world's largest household products maker, plans to sponsor more than 150 athletes at the London Olympics this summer after joining the top tier of Games backers.
P&G is seeking to build on the momentum created by its sponsorship of the U.S. team at the 2010 Winter Olympics in Vancouver, which it said generated an additional $100 million in sales.
Later that year it became the newest addition to the International Olympic Committee's roster of 11 leading sponsors who help to fund the Games and in return get exclusive worldwide marketing rights to the event.
"We found this was good for business but most importantly good for our brands, touching a lot of different people," Marc Pritchard, P&G Global Marketing and Brand Building Officer, told Reuters.
"We had 16 brands in Vancouver. We'll have more than 30 brands participating in London," he said in a telephone interview from Cincinnati, Ohio, where P&G has its headquarters.
"We had 18 athletes in Vancouver. We're going to have more than 150 athletes that we sponsor in London," he said.
P&G, whose brands include Duracell and Gillette, signed up in 2010 for a 10-year deal to sponsor the next five summer and winter Olympics, starting in London.
After London, the Games will head to the fast-developing markets of Russia, Brazil and South Korea. The 2020 venue is yet to be awarded.
Sponsors typically pay around $100 million for each package of summer and winter Olympics. Fast food chain McDonald's last week became the seventh major sponsor to sign a deal taking it through to the 2020 Olympics.
Unlike other sponsors such as McDonald's and Coca-Cola, P&G has multiple brands to advertise.
It is still completing its line-up of athletes for London, but has already done deals with some household names.
Olympic swimming champion Michael Phelps, who has won a record 14 gold medals, will advertise P&G's "Head & Shoulders" shampoo. British medal hopes Jessica Ennis, a heptathlon champion, and Paula Radcliffe, a marathon world record holder, have also signed endorsement deals.
The company is extending its "Thank You Mom" advertising campaign for this year's Olympics, underlining the importance of maternal support for budding athletes. As part of that program, it has pledged to raise $5 million to support youth sports around the globe.
Pritchard saw great scope for the use of digital media in brand campaigns around the Games - with sites like Facebook and Twitter having taken off since the Beijing Games in 2008.
"You will definitely see a lot of activities that will be coming on Facebook and Google and Yahoo and Microsoft, the whole gamut," he said.
"We see this is going to be a very, very digital Games."
(Reporting by Keith Weir; Editing by Gary Hill)