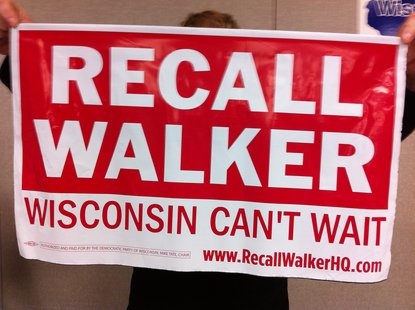 MADISON, WI (WTAQ) - Democrats and union supporters will submit an estimated 1.5 million recall signatures Tuesday.
The state Government Accountability Board will then start reviewing the signatures, to see if there are enough to order recall elections against Governor Scott Walker, Lieutenant Governor Rebecca Kleefisch, and 4 GOP state senators.
Meanwhile, Democrats say they're against the Board's effort to hold all recall votes on the same day.
State law requires those elections to be held six weeks after petitions are verified -- and petitions for the smaller Senate recalls are expected to be reviewed a lot quicker than the statewide petitions for governor.
Graeme Zielinski of the State Democratic Party says the recall votes should be held as quickly as possible, and delaying one or more of them would break the law. He's concerned that the GOP incumbents are not given more time to raise money for their campaigns.
Holding the votes on the same day would save money for local government clerks.
The state says a single election, with no primary, would cost the state and local communities around $9 million.