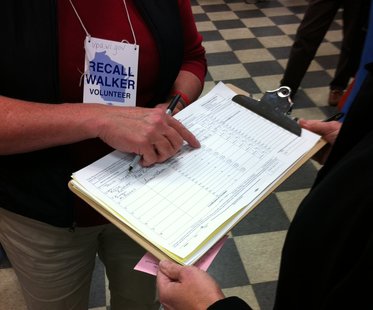 MADISON, Wis. (WSAU) – Opponents of state Senate Majority Leader Scott Fitzgerald said today they have more than enough petition signatures to force a recall election against him.
The head of the petition drive, Lori Compas, called a news conference at the State Capitol to announce that they're over the top. But Compas would not say how many signatures they have – and they said volunteers would keep circulating petitions through tomorrow to make sure they have a cushion.
The group was reportedly just short when Fitzgerald filed a complaint yesterday with state election officials. He said the deadline for filing all recall petitions should be today instead of Tuesday, because it's the 60th day since the drives against him and five other Republican officials began.
But the Government Accountability Board and state justice officials said the 60-day clock actually runs through tomorrow, because it begins the day after the recall drives were registered.
Recall volunteer Sarah Hammer said Fitzgerald was acting like quote, "a kid not winning Monopoly throwing the board up at the end of the game."
Fitzgerald has not commented on today's developments.