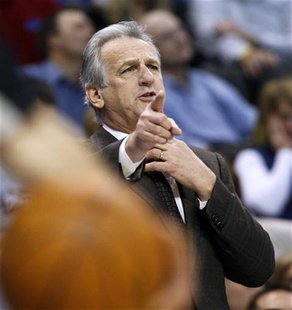 (Reuters) - The Sacramento Kings fired coach Paul Westphal on Thursday after opening the season with a disappointing 2-5 record.
Tensions on the team have mounted as the losses increased and a dispute between Westphal and center DeMarcus Cousins festered.
"Unfortunately, the overall performance level of the team has not approached what we felt was reasonable to expect," Kings President of Basketball Operations Geoff Petrie said in a statement.
Current Kings assistant coach Keith Smart was to serve as head coach in Thursday's game against the Milwaukee Bucks, Petrie said.
In two-plus seasons, Westphal compiled a 51-120 record with the Kings, going 25-57 in 2010 and 24-58 last season as they missed the playoffs for the fifth consecutive year.
The Kings were expected to improve this season and perhaps challenge for a playoff spot but instead sit in the cellar of the Pacific Division.
They opened the campaign with an upset of the Los Angeles Lakers, but have since suffered lopsided losses to Portland, Chicago, New York, Memphis and Denver with their only other victory coming against New Orleans.
Cousins did not play in the New Orleans game after Westphal questioned the center's commitment to the Kings and told him to skip the game.
The coach also said Cousins, a former first-round pick, had demanded to be traded, something Cousins later denied.
Westphal, who previously coached the Phoenix Suns and Seattle SuperSonics, had not been an NBA head coach since 2001 when hired by the Kings in 2009.
"I would like to thank the Maloof family (Kings owners) for the incredible opportunity they gave me to participate in the attempt to bring the Sacramento Kings back to prominence," Westphal said. "While the job is far from finished, I am proud of the strides we were able to make."
(Reporting By Gene Cherry in Salvo North Carolina; editing by Rex Gowar and Steve Ginsburg)