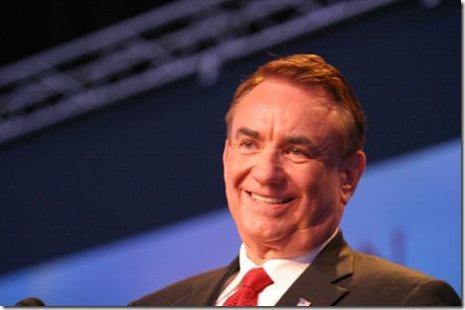 MADISON, WI (WTAQ) - Tommy Thompson would easily win the Republican U.S. Senate nomination if the primary were to be held today.
That's according to a new survey by the Public Policy Polling firm.
Just over 550 GOP primary voters were polled by phone last week – and Thompson, the former governor and Bush cabinet secretary, got 39 percent of the support. Former Congressman Mark Neumann and Assembly Speaker Jeff Fitzgerald were far behind with 22 percent each.
Thompson's lead was easily beyond the poll's error margin of plus-or-minus 4.2 percent.
The poll also showed that the only Democrat in the race, Madison Congresswoman Tammy Baldwin, would defeat Neumann 47-41 percent, and Fitzgerald 47-39.
900 likely voters were surveyed in the larger poll, with an error margin of 3.33 percent either way.
The poll also showed Baldwin in a dead heat with Thompson. She leads 46-45, but that's within the poll's margin-of-error.