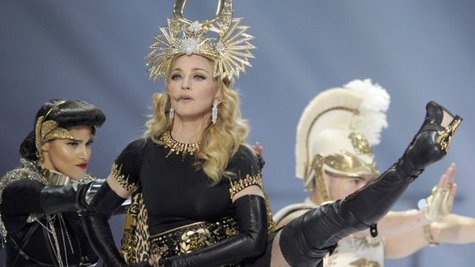 All this week, VH1 has been airing its five-part special on the "100 Greatest Women in Music," but if you don't feel like sitting through all five episodes, the channel has also posted the entire list on its website . Unsurprisingly, Madonna , Queen of Pop, has topped the list, followed by Mariah Carey , Beyonce , Lady Gaga , Adele and, sadly, Whitney Houston . The top 10 is rounded out by Janet Jackson , Christina Aguilera , Mary J. Blige and Pink .
The rest of the list features a wide variety of female stars in nearly every genre, from alternative rock to rap to country, and if there seem to be some omissions, keep in mind that the list is based on the greatest women in music of the past two decades. That's why, for example, Aretha Franklin , Debbie Harry of Blondie , Chrissie Hynde of the Pretenders and Janis Joplin aren't on the list. Cher is on the list, but that's because she scored some of the biggest hits of her career in the past two decades.
American Idol alums are well represented on the list, with Kelly Clarkson , Jennifer Hudson , Fantasia , Carrie Underwood and Idol judges Paula Abdul and Jennifer Lopez all present and accounted for.
The special continues on VH1 through Friday night, when numbers 20 through one will be revealed. Here's the full list, from the bottom to the top.
100. Pussycat Dolls
99. Demi Lovato
98. Ashanti
97. Grace Potter
96. Mandy Moore
95. Wilson Phillips
94. Colbie Caillat
93. Feist
92. Jordin Sparks
91. Monica
90. Regina Spektor
89. Hillary Scott (Lady Antebellum)
88. SWV
87. Robyn
86. Ingrid Michaelson
85. Faith Evans
84. Avril Lavigne
83. Meg White (The White Stripes)
82. Miley Cyrus
81. Spice Girls
80. Sara Bareilles
79. PJ Harvey
78. Kim Gordon (Sonic Youth)
77. Hayley Williams (Paramore)
76. Leona Lewis
75. Kim Deal (The Breeders, The Pixies)
74. Paula Abdul
73. Dido
72. Brandy
71. Natalie Merchant
70. Macy Gray
69. Courtney Love
68. Indigo Girls
67. M.I.A.
66. Natasha Bedingfield
65. Liz Phair
64. Eve
63. Jill Scott
62. Leann Rimes
61. Shirley Manson (Garbage)
60. Florence + The Machine
59. Destiny's Child
58. Miranda Lambert
57. Ke$ha
56. Gloria Estefan
55. Fiona Apple
54. Tori Amos
53. Sarah McLachlan
52. En Vogue
51. Nelly Furtado
50. Lauryn Hill
49. Amy Lee (Evanescence)
48. Aaliyah
47. Kylie Minogue
46. Toni Braxton
45. Lil' Kim
44. Erykah Badu
43. Taylor Swift
42. Melissa Etheridge
41. Jewel
40. Nicki Minaj
39. Dixie Chicks
38. Salt N Pepa
37. Faith Hill
36. Shakira
35. Shania Twain
34. Queen Latifah
33. Norah Jones
32. Fantasia
31. Cher
30. Sade
29. Bjork
28. k.d. Lang
27. Fergie
26. Amy Winehouse
25. Sheryl Crow
24. Jennifer Hudson
23. Carrie Underwood
22. Annie Lennox
21. Celine Dion
20. Rihanna
19. Kelly Clarkson
18. Missy Elliott
17. Katy Perry
16. Jennifer Lopez
15. Alanis Morissette
14. Alicia Keys
13. Gwen Stefani
12. TLC
11. Britney Spears
10. P!nk
9. Mary J. Blige
8. Christina Aguilera
7. Janet Jackson
6. Whitney Houston
5. Adele
4. Lady Gaga
3. Beyoncé
2. Mariah Carey
1. Madonna
Copyright 2012 ABC News Radio