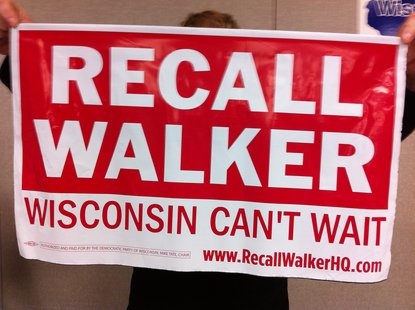 UNDATED (WSAU) The Milwaukee Journal Sentinel estimates that about 15-percent of the Walker recall petition signatures are not valid. But even if three times that many are struck down, there would still be enough valid signatures to order the first recall election of a governor in Wisconsin history.
The state's largest newspaper said it randomly chose 500 of the estimated one-million signatures and tried to verify the identities of each person – something the Government Accountability Board says it won't try to do. Board spokesman Reid Magney says they'll consider a signature to be valid if it has a credible name, a Wisconsin address, and a properly-written date. But it won't check public records to verify a signer's existence unless the recall targets or petitioners file challenges.
Marquette visiting professor Charles Franklin, who helped the Journal Sentinel create its sample, says the results show that the recall petitioners apparently have a large cushion in assuring an election. Lynn Freeman of the petition group United Wisconsin said she wasn't happy with the percentage of invalid signatures in the Journal Sentinel's review. In her words, "I don't want us to have a 15-percent problem – but even if we do, we are still far and above the signatures needed."
The governor's campaign and state Republicans have not commented on the findings. The Government Accountability Board has until March 19th to validate the petitions.