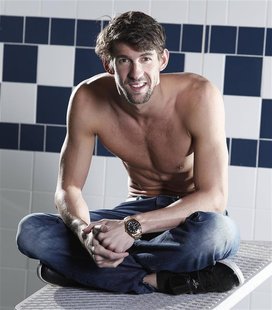 By Julian Linden
NEW YORK (Reuters) - For Michael Phelps, inspiration comes in all different shapes and sizes.
On a whistle-stop visit to New York, for the global launch of Head and Shoulders' "Wash In Confidence" campaign, the world's most decorated Olympian found inspiration at two unlikely places.
First, he witnessed the chaos and excitement of one million people lining the sidewalks of New York City for a spectacular ticker-tape parade celebrating the New York Giants' Super Bowl win.
Then, the world's fastest swimmer visited a boys and girls sports club in the Bronx that he supports through a foundation he set up after he won eight gold medals at the Beijing Olympics.
About a dozen kids from the Bronx, who train at the club's modest 6-lane, 25-yard pool, got the chance to swim with Phelps then quizzed the American on what got him to the top, from how many laps he swims each day to what he eats and how many times he shampoos his hair.
Overhead, the swimmer's parents and club staff, watched from a small balcony, taking photographs and videoing his appearance.
For Phelps, the purpose of the program he runs is to teach kids how to swim and inspire them to chase their goals. But the benefits are mutual and Phelps finds inspiration from them as well.
"I'm here to help these guys understand that anything is possible," he told Reuters in an interview on the eve of the Head and Shoulders' launch in downtown Manhattan.
"The most important thing is being to get that message across, that anything you want to achieve, if you want it bad enough, I think that's something a lot of people know but they can't realize how real it is.
"If you put your heart and soul into a goal, something you really do want to achieve then you really are going to accomplish it. No matter what it is."
INSPIRED BY GIANTS
Though a devoted fan of the Baltimore Ravens, Phelps said he had also drawn inspiration from seeing the Giants achieve something many people considered impossible.
Against all odds, they won six consecutive games that would have eliminated them from contention, culminating with Sunday's 21-17 heart-stopping Super Bowl win over the New England Patriots, who beat the Ravens two weeks earlier to win the AFC Championship.
"A lot of people were counting them out. It's the same thing in any sport you do, you have to be ready at any given time and the most prepared people always win," Phelps said.
"Anything can happen, nothing is ever taken for granted you have to be ready and prepare yourself and still get up there and go for it."
Phelps has been a National Football League fan all his life and has had the chance to meet some of the game's greatest players and said he was not surprised they share a lot of common interests.
"The first time I met (Indianapolis Colts quarterback) Peyton Manning all I wanted to talk about was football and all he wanted to do was talk about swimming so it was kind of a cool conversation," he said.
"I'm a diehard Ravens fan, and a diehard NFL fan, it's my favorite time of the year. I watch every Sunday, I watch every Monday. I'm glued to the TV during the Super Bowl and all the championship games and it's the one big sport that I follow on TV."
(Editing by Gene Cherry)